About The Artist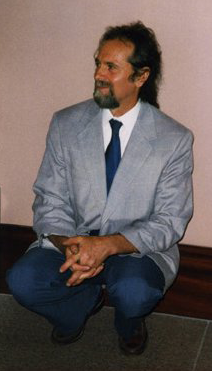 I am a self-taught sculptor.  I live in the Piedmont Hills of North Carolina with my family, immersed in the old hardwood forest, close to where I was raised.
My artistic life has had four major influences that have inspired me this lifetime.
My young and formative years were spent in the woods growing up on a nineteenth century farm in the twentieth century.
I traveled while in the service being especially influenced by my time spent in Japan.  This broadening of my horizons and opening of my mind and consciousness was a great turning point for me, and delivered me back to North Carolina with a different perspective.
I was introduced as a young man to eastern Mysticism and to belief systems that fit readily into the feelings that I had experienced in nature, and even in a more pronounced way when I began to meet Native Americans and became exposed to their beliefs.
When I settled down to make a living in the world I returned to my roots in nature to make a life.  It was when I began to work in stone masonry and carving that a light came on to illuminate the path to art.  Everyone on a creative path does and should experience something different.  In my case, I was exposed to beauty and truth as a pre-requisite for creating Art.  Art led me to Art.  I have been fortunate also to have known several very accomplished artists whose work and friendship have been a major inspiration.
The kinship between my early life close to the earth and nature and the experience and study of alternative approaches to religion and consciousness created for me life patterns that have profoundly affected my work. What debts we owe to nature.
In 1993 I was awarded the Charlotte-Mecklenburg Emerging Artist's Grant, and in 1994 an Artist's In Residence Grant for Randolph County Schools.  In 1998, I received a grant from the North Carolina Arts Council to create with the children of Mt. Pleasant Elementary School and Art Teacher Beth Smithson, a permanent mural made up of clay tiles produced by the children in conjunction with  3 small bronzes.  At Chapel Hill's, Sculpture on the green-2001, "Du-yu-k-Tv" as shown and won a $500.00 merit award.
Commissions include a 1995 lifesize bronze of a Cherokee Hunting Priest for Cherokee Country Club of Atlanta, GA.  A 1998 lifesize bust figure of a colonial era Tuscarora for Tuscarora Yarns in Mt. Pleasant.  A 1999 lifesize bronze of a Cherokee UKU for Cherokee Country Club, and in the fall of 2003 the unveiling of the nine foot bronze sculpture of SELU, the Cherokee mother of corn, for Harrah's in Cherokee, NC, culminating a year long project.
In between the larger commissions, I stay busy with stone masonry, reproductions, and creating new art.